Blade Cutting Testing Machine by C.A.T.R.A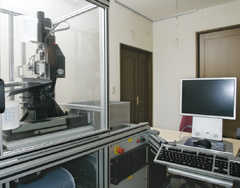 C.A.T.R.A., the Cutlery and Allied Trades Research Association based in Sheffield, England, recently developed a machine which can objectively test and measure the sharpness and durability of knife blades.
Many organizations currently send knife samples to them for testing and evaluation. We at Global have now purchased one of these machines which we are using to test and monitor the performance of Global knives compared with other knives on the market. By this means we can obtain undeniable objective information on the relative sharpness and performance of our knives, as produced by our factory, and after re-sharpening by various methods.

Methodology
The knife is fixed in the machine and the blade is mounted in a position with the edge vertical. The blade is moved back and forth whilst a pack of special testing paper is lowered onto the blade. The blade cuts through the paper and the sharpness is then measured.


2 measurements are produced:-




1.

Initial Cutting Performance(ICP)
This measurement is based on the first 3 strokes, Which represent the cutting ability or the sharpness of the blade.

2.

Total Card Cut (TCC)
This is measured over 60 strokes, Which represents the life of the blade.



These two measurements are produced and recorded by a computer for each of the knives tested.
Testing of Knives in Original Condition
We regularly test our Global knives in their original ex-factory condition. We also regularly make test purchases of alternative brands of kitchen knives on the market and test them also to obtain relative data.

We have a number of charts and records available which show that Global knives continually outperform all other brands tested, in terms of both initial sharpness and durability.

Recent developments by Global, notably the adoption of the special exclusive Cromova 18 blade material and the automation of the grinding processes, have further distanced Global knives from the rest. In fact the remarkable results produced by Global often take them beyond the results scale provided by C.A.T.R.A. and have forced us to add yet higher levels of excellence in some of the categories. (Please refer to the various test reports for these comparisons).
Sharpening of Knives
All kitchen knives should be kept sharp for optimum performance. Different knife manufacturers recommend different methods for keeping their knives sharp. Traditionally many chefs and butchers used sharpening steels, the poles of which were made of metal. More recent versions may be composed of ceramic or diamond coated material.

The blades of Japanese knives such as Global are made from special material which should not be re-sharpened using metal poled steels, which are too coarse. Ceramic steels may be used, although effective use of these is rather difficult for the non-expert.

The secret of achieving a sharp edge along the whole cutting edge of a knife is to maintain a constant sharpening angle of 15 - 20 degree between the blade and the sharpening medium. This is easiest achieved using a flat sharpening surface, hence we strongly recommend use of a flat whetstone for re-grinding or sharpening our Global knives. Suitable whetstones come in different materials - our two main ranges are made from aluminum oxide (Which is a composite material that must be soaked in water before use). of ceramic (Which just requires a little water for lubrication). In each case there are also variations of roughness or grit to enable coarse, medium or fine grinding, according to the condition of the blade.